2021 Jeep Cherokee Review in Vancouver, British Columbia

2021 Jeep Cherokee Review in Vancouver, British Columbia
The 2021 Jeep Cherokee in Vancouver stands out from the pack in many ways. It provides you with a choice of three engines for convenience to meet your demands for power and towing capabilities. The Cherokee has a four-wheel-drive configuration with Active Drive technology to help you power through mud, water, or drive through challenging terrain. With a refined and comfortable cabin, the Cherokee looks and feels just as much at home on city streets.
2021 Jeep Cherokee Exterior Features
Inside and out, the 2021 Cherokee has much to enjoy. Depending on the trim level you get, there are up to a dozen paint colours available to give your car a picture-perfect finish. The Cherokee can also be accessorized with up to seven wheel designs and colour combinations. Wheels are also offered in assorted sizes to give the Jeep a distinct look to match all styles. Rugged all-terrain tires are available with select trim levels. Select trims, including the High Altitude, Altitude, and 80th Anniversary, can be finished with dark grey or black accents for the wheels and the exterior trim.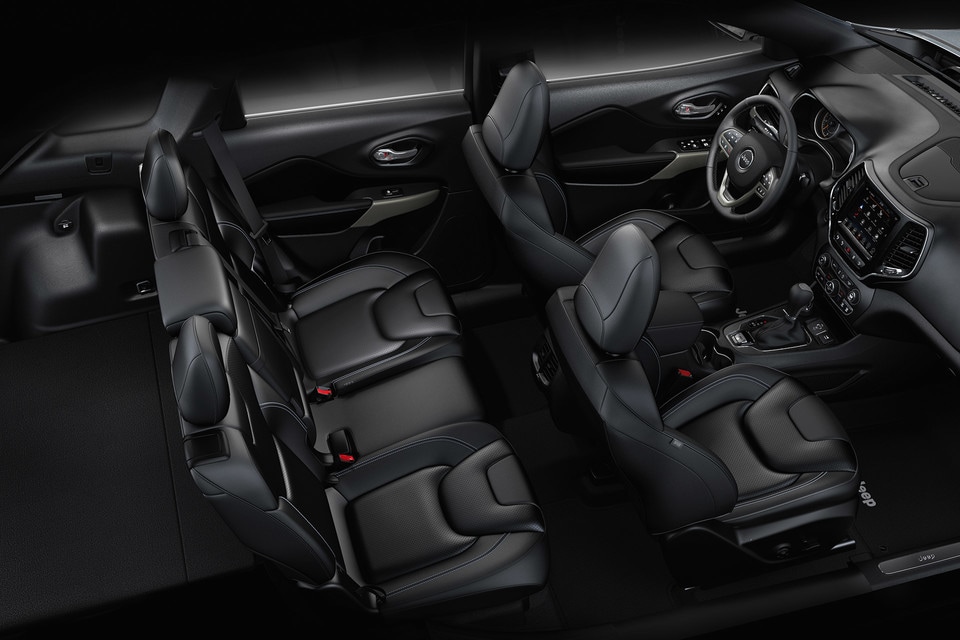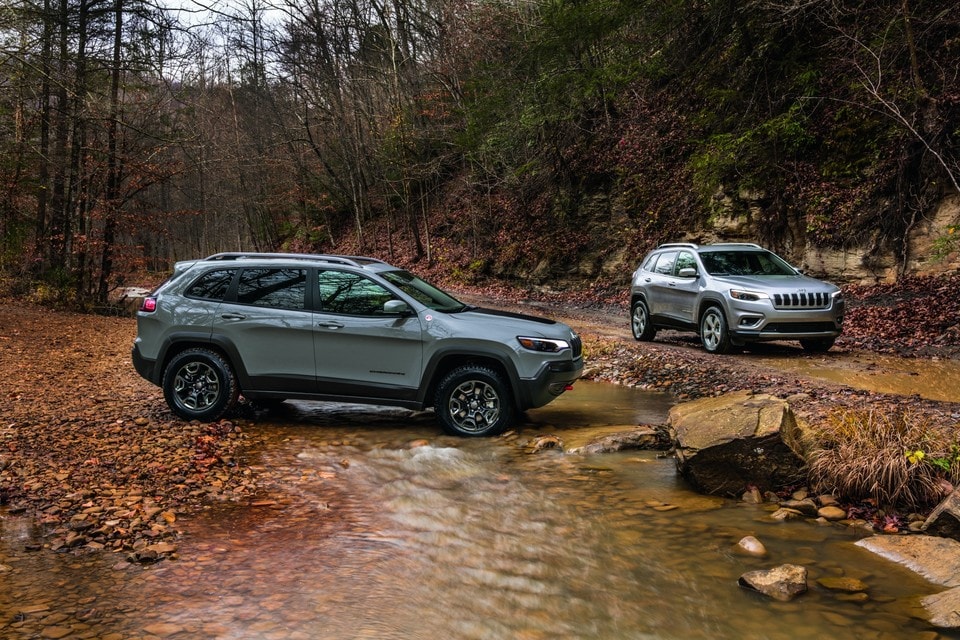 2021 Jeep Cherokee Interior Features & Cargo Space
The unique styling continues inside the Jeep's interior that seats five passengers in comfort on materials that range from cloth upholstery to plush leather. There are seven choices available for seating colour and material to build a perfect interior. A sunroof is standard on some trim levels, and you can also opt for the Sun & Sound package that includes a dual-pane sunroof and an Alpine sound system. The Cherokee also has a full-colour infotainment display screen that is customizable to your liking. The cargo area has all the storage space that you require, with the capacity to hold up to 1,634 litres of cargo. The Jeep has a versatile configuration, with the ability to fold the seats flat if you need more storage room beyond what the cargo area provides. The floor in the cargo area also has multiple levels to give you even more storage capacity. Some packages and enhancements are available for the Jeep to create a unique and distinguished interior design. With the Trailhawk Elitre, you will also get integrated navigation, heated rear seats, a hands-free tailgate, and ventilated front seats.
2021 Jeep Cherokee Performance & Specifications
Three powerful engines are available for the 2021 Cherokee, with the base trim having a standard 2.4-litre four-cylinder engine. You can choose from two additional engines, an optional 2.0-litre turbocharged four-cylinder and a 3.2-litre Pentastar V6 engine. This engine, which has a 3.2-litre displacement, is standard on the Altitude trim level and above. A nine-speed automatic is the standard transmission for all trims. The Cherokee has multiple four-wheel-drive systems available to help power through snow, mud, water, and other elements. If you get the Trailhawk trim, your Jeep will also come with an Active Drive Lock system that adds a rear axle locking system to provide additional traction when conditions are most extreme. The Jeep can tow a maximum of 2,000 pounds with the base engine and up to 4,500 pounds with the V6 engine.
2020 vs. 2021 Jeep Cherokee Differences
Jeep has changed from one model year to the next with the 2021 Cherokee. The 2021 Cherokee is now configured with additional features, including more safety technology features. Some advanced safety aids that were previously only available are now included as standard items on this year's Jeep lineup. The Jeep Cherokee family also has a long list of conveniences and comfort items. It also adds a new trim, the 80th Anniversary, featuring granite crystal 19-inch wheels, leather upholstery, an 8.4-inch touchscreen, and more.
Contact Us
To learn more about the 2021 Cherokee, don't hesitate to contact us today. We can show you the models of the Cherokee that are available in our new inventory to try out. More information is also available on financing and payment options for the Jeep, including a lease or a loan.
2021 Jeep Cherokee Inventory in Vancouver, BC